Shining Hearts: Bread of Happiness
シャイニング・ハーツ ~幸せのパン~

General Information
Director(s)
Itsuro Kawasaki
Producer(s)
Junichi Inaba
Kuniyoshi Shigeta
Masahiro Nakayama
Masanori Goto
Studio
Production I.G
Original Run
April 12th, 2012 – June 30th, 2012
Shining Hearts: Bread of Happiness
(シャイニング・ハーツ ~幸せのパン~,
Shining Hearts: Shiawase no Pan
) is the second anime adaption of the
Shining Series
following the game
Shining Hearts
. It first aired on April 2012, running for a period of about 12 episodes.
Rick lives on the island of Wynderia, inhabited by various raves such as elves and beat-people. Amnesiac, he is rescued by three young ladies and taken to work in their bakery, living happily, days baking bread for the town's inhabitants. But when a red moon rises and a deathly wind blows, all four will be engulfed in a strange events.
Characters
Edit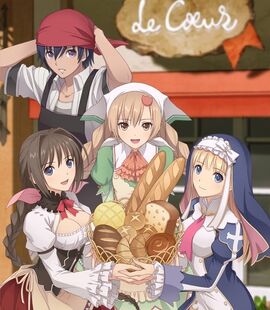 Opening Theme
"Toki Sekai (時世界~トキセカイ~)" by Kanae Itō, Mai Aizawa and Shiori Mikami
Ending Theme
| # | English title | Japanese Title | Airing Date |
| --- | --- | --- | --- |
| 1 | Welcome to Le Couer | ル・クールへよこうそ | April 12th, 2012 |
| 2 | The Day of the Storm | 嵐の日 | April 19th, 2012 |
| 3 | Blackout | 灯火管制 | April 26th, 2012 |
| 4 | Mechanical Doll | 機械人形 | May 3rd, 2012 |
| 5 | As if Melting | とろけるような | May 10th, 2012 |
| 6 | Request from the Prince | 王子からの依頼 | May 17th, 2012 |
| 7 | Everyone's Heart | それぞれのココロ | May 24th, 2012 |
| 8 | Drifting Person | 漂流人 | May 31th, 2012 |
| 9 | The Phantom Thief Again | 怪盗再び | June 7th, 2012 |
| 10 | Messenger from Another World | もうひとつの世界からのメッセンジャー | June 15th, 2012 |
| 11 | The Decisive Battle | 決戦 | June 22nd, 2012 |
| 12 | Bread of Happiness | 幸せのパン | June 30th, 2012 |
External Links
Edit